Yes, they can eat frogs but they SHOULD NOT eat any type of frog. In fact, they should not eat any amphibians. It is a myth that bearded dragons who do not get enough protein in their regular feedings will survive by eating frogs and other reptiles. Furthermore, the ingestion of frogs can have serious effects on the bearded dragon's health. Check out the insects for bearded dragons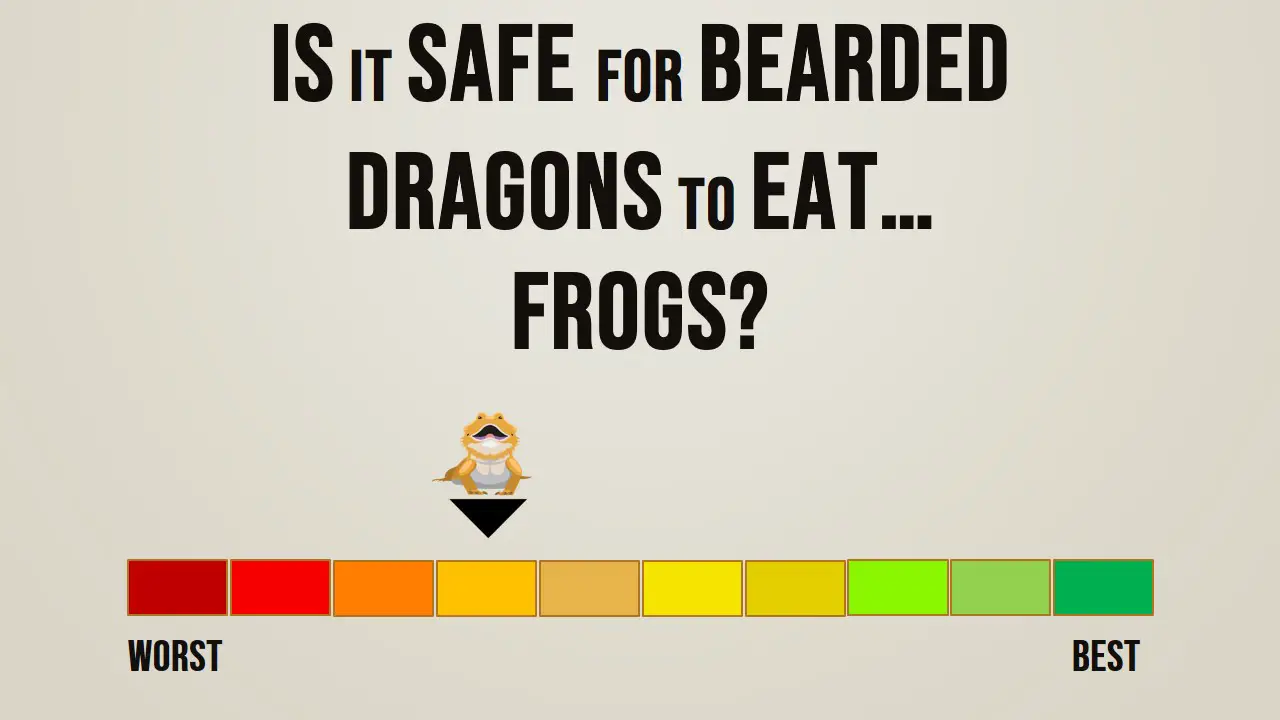 Listed below are reasons why you should NEVER feed your bearded dragon a frog:
1) Vitamin A- The primary reason that people think that feeding a beardie a frog might be beneficial to its diet is because of the vitamin A content of frogs. However, one thing people seem to fail to realize is that there are many internal parasites present in frogs and therefore the vitamin A concentration is greatly supplemented with Vitamin D3 which can irritate or even damage a bearded dragon's organs.
2) Frogs are small in size, however, they are not a good source of daily nutrition for your beardie. A bearded dragon would have to eat up to 20 frogs a day in order for it to gain any benefit from the ingestion of a frog's body. That's simply not possible and not worth it.
3) Frogs and toads can secrete a poisonous toxin through its' skin which could kill your Bearded Dragon.
4) Different species of frogs carry different parasites which can be transmitted to your dragon if ingested.
5) The nutritional composition of a frog lacks many nutrients that are present in other foods that are great for your bearded dragon – such as – crickets, super worms and even silkworms.
6) There is no scientific evidence backing any claims that a diet of frogs is optimal for a bearded dragon.
7) In order to get the most nutritional value from their food, bearded dragons should eat prey that is equal in size to the space between their eyes.
8) Frogs, toads, salamanders and other amphibians can be carriers of salmonella which causes humans and reptiles alike infections.
Can Bearded Dragons Eat Wild Frogs?
No, for the reasons listed above, bearded dragons should be fed insects year-round because they are cold-blooded and depend on external heat sources such as under tanks heaters or human heating pads in order to regulate their inner body temperature during the wintertime.
Even if the frog is small enough to fit in the bearded dragon's mouth, they have a hard time digesting the frog's thick, tough skin.
List of Insects for Bearded Dragons
Can Bearded Dragons Eat Store-bought Frogs?
Bearded dragons can and will eat store-bought frogs, but you should not feed your dragon any type of frogs.
They do not provide the nutritional value that live insects do. Avoid buying canned tree frogs or any amphibians from your local pet store to feed your hungry dragon.
Can Bearded Dragons Eat Frozen Frogs?
No, because they lack nutritional value and it is not healthy to give your bearded dragon a diet of frozen frogs that have been deprived of their nutritional value.
Can Bearded Dragons Eat Dead Frogs?
No, because dead animals have likely lost most of their nutritional value.
Can Bearded Dragons Eat Frogs from the Pond or Stream?
No, it is not worth the risk of your dragon ingesting parasites that are commonly associated with frogs. There are several reasons why you should never feed a bearded dragon a frog.
The most important reason is that they lack many necessary nutrients that insects have in abundance. Unfortunately, this myth about bearded dragons eating live amphibians to keep them healthy lives on despite evidence that this practice can be detrimental to their health and well-being. If you're looking for an alternative source of protein, try feeding your beardie super worms instead. Some people report their beardies to enjoy them more than crickets!